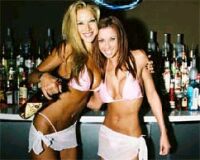 Private Swinger Parties

Swinger parties are the mainstay of the swinging lifestyle.

Every weekend, and during the week too, thousands of naughty evenings are being had by
sexually active open-minded Couples and selected Singles getting dirty all around the world.

SwingMeDo let's YOU join the fun by giving you a directory of privately held and totally FREE swinger parties and social events
wherever you live, from New York to Moscow, Oslo to Madrid, London to CapeTown, Sydney to Vancouver or California to Athens.

Some parties get pretty large events, with over 50 couples (plus a good number of singles and females to help 'fill any extra gaps'),
but on the whole, most free events are low-key, held in private homes, and cater to just 6 to 12 couples or so. Parties generally require a little more noise, some good music, games and dancing, whilst social events can be as civil as a nice meal followed by a few drinks, good conversation and whatever intimate action the night brings. For parties, themes can vary from fancy dress to pure no-holes barred orgies, or even incorporate special fetish evenings with everything from rude-food to sexy spanking on the menu!
Parties cater to all tastes, and ages can range from 18 to 81, so there's always something for everyone. If age is an issue for you, then select an event ideal to your taste by clicking either our young swingers (18-39 yrs) or club 40-plus (40+ yrs) buttons.


Swing
Clubs



Likewise, professional hosts may also list their commercial swinger events
and weekly functions, just as long as their ticket-prices are clearly marked.
Note: Unlike private-parties, commercial events are not normally free to attend


Every party is different, so check the lists for ones you like, then confirm any fine-details and get invites directly from the host.
Our lists in the Swinger Party Directory is updated in realtime, so check back regularly or set an alert for new events near you.
First-timers are almost always extremely welcome. Singles (especially men) need to check the boards for events open to singles.

• To attend or host a private swinger party login to your Swinger's Lounge now.



Private events are strictly for genuine swingers, so you will normally need to login to access the best parties listed on the board.
From your Swinger's Lounge panel, simply click the swinger parties button to view a full list of all the upcoming parties and events.
Pick a party (locally or nationally) for this weekend or the date you prefer, and get in DIRECT contact with the host to book a place.
We do not get involved in privately hosted events. All parties are direct. Listings are 100% free, and all contact is with the hosts.
Likewise, admission to profesional events is booked direct with the organiser. (Our own events are of course booked through us).

Commercial or professionally organized parties are always clearly marked as such. They are often ideal for beginners as your hosts are fully experienced and can help with any issues or questions you may have, plus they have their regulars who are only too pleased to make new visitors feel very welcome. Most do ask a covercharge as they tend to offer additional facilities and services simple not possible with most privately held parties, plus their guest numbers are frequently in the dozens, if not the hundreds!!



HOSTING an Adult Party of your own:
If you have a suitable home or venue and would like to host a small party of your own, see inside and list your event now for free.
Hosting a swinger party is a great way for you to increase your intimate social circles, and to meet new couples a few at a time.
Private swinger parties are always free, but you can ask guests to help-out with food, snacks, booze, and even the cleanup.
As well as your own home, you can also hold swinger parties at private offices, aboard boats, at holiday cabins and more.
Our beginners-party-guide offers lots of tips plus sexy fun ideas to help set the mood and get your party going!

If you're a swinger-club or professional party planner, you too may list your commercial events, declaring cover charges.
You may list your functions as a "one-off" event, or repeat the listing on a regular basis. We are also able to help with direct media, editorial pieces, reviews and special promotions if you require. There is a small nominal charge for professional event listings.